WalkLakes
Remembering Jessie 2005 - 2020
We first met Jessie, and her brother Jack, at the Dogs Trust rescue centre at Snetterton in autumn 2010.
We had gone to see a black and white collie but according to the staff he was rather a handful and would snap freely with his teeth. So instead we wandered along the line of kennels and spotted two brown and white dogs - Jack and Jessie. They were border collie x golden retrievers, brother and sister from the same litter. They came up to the perspex front and I held my hand up to the holes so they could sniff me. We looked, they looked back, and for some reason I put my palm against the window. One of them matched it with their paw. How could we not take them for a walk, at the very least...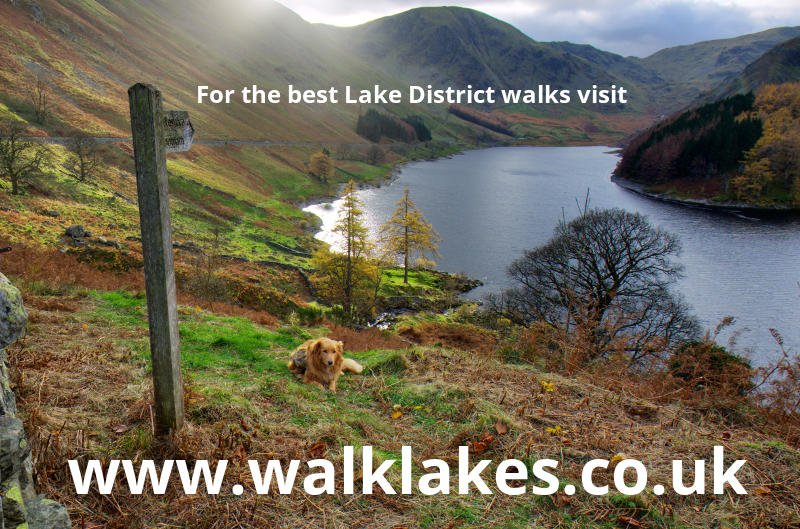 Young Jessie
Jessie looked a little weird. Her fur was mostly clipped short, just her tail and head left long and golden, her body fur pale and very soft. A short walk along a lane revealed they had no idea what they should do. They wouldn't sit, everything was done at full speed in every direction they fancied.
We went away to think about it. Within a few days we went back for another walk...
Jessie settled in first. She was eager to please, and learned fast. Jack found himself a job, any job even if it was one you didn't want him to have.
My first trip out with Jessie was at the end of 2010, well before WalkLakes was really thought about. I tried to camp just below Crinkle Crags. It was New Year's Eve and I fancied watching the sun coming up on the morning of a new year. However, the weather and Jessie had other ideas. It was snowing with a cold breeze. Jessie decided she preferred sleeping in the open, rather than the tent. No amount of bribery or persuasion would change her mind. As it got dark the weather deteriorated further and I still couldn't coax her into the tent. I made the decision to pack up and walk out.
That year, 2011, wasn't particularly great but did result in this website coming into fruition. And a little incident where Jessie quite possibly saved the life of a tiny puppy. We were walking in the local park when we came across a frantic older lady looking for her dog. It had taken fright from bigger dogs and run. So I said we'd look around and I took Jessie to the edge of the lake. Not seeing anything I moved away but Jessie stayed there and wouldn't follow me. Returning I looked over the edge of the fishing platform and there, an arms length down and slightly under-cut, was a wee scrap of a pup mostly in the water unable to climb back up onto dry land. I scooped it up and ran shouting for this lady, whom we soon found. I doubt anyone would have found the pup quickly enough without Jessie.

Jessie at Bowscale Tarn
I also learnt that year that although Jack was much stronger than Jessie he couldn't follow a path as he was more interested in chasing anything that moved. A hare or pigeons just had to be chased, and smells followed. He was very interested in sheep and breaking his focus was almost impossible. So he'd have to be on a lead at all times. In contrast Jessie was calm, followed a path well, and I could keep a check on her with a quiet word. Only though fields did she go on lead as a matter of course.

Terraces of Eagle Crag
At the beginning of 2012 we were regularly out on the fells she soon became my equal. Anything she could scramble, I could. If she couldn't find a way up a rocky step, she found a way around it often by herself. When faced with the path splitting she reliably chose the busiest, and therefore the best. She even seemed to know where we were going - to the highest point! And we both gained fitness together.
Jessie was often out in front on our walks in the fells. It took me a while to get used to and trust her particularly on short scrambles up rocky steps where I couldn't always see her. However, on many occasions I'd get to the top and she'd be sitting waiting and watching me, with a posse of herdwick ewes watching her.

Waiting for me on Mickledore
She also proved herself adept at sniffing out water sources. During a dry spell she found a boggy little hole on Cat Bells' southern ridge. I had water for her but she preferred the peaty water. Another time she found a small spring above Lingmell Col just off the path to Scafell Pike.

Relaxing on the Terrace Route
As the summer of 2014 wore on I realised that we were both close to walking all the Wainwright Fells. I planned the last few walks and hoped we'd have the energy to complete before the weather turned into winter. And we did! We completed on Slight Side in the middle of September 2014. We were both tired so at a pleasant little spot on the Terrace Route back to Wha House we stopped, took off packs, and chilled out for a while. It was fantastic to sit back and enjoy the feeling of having been all over the Lakes, to places we otherwise wouldn't have gone, just to climb a Wainwright Fell.
In recent years as well as doing some longer walks over the fells and updating walks where needed, we also walked a few Munros in Scotland. Ben More Assynt stands out as quite special. A long rough walk, but a fine day where it didn't matter how long we sat and watched the view.

On Ben More Assynt
In the early months of 2019 is was obvious Jessie was not well. The vet diagnosed kidney disease. Getting her onto the renal diet food she bounced back to almost her old self. But alas in late November things turned for the worst. She spent a night in the vets on a drip and came home. Time was obviously running out for her. She made it through Christmas and New Year, still relatively happy. In January she deteriorated further and we made that decision...
I'll choose a fine day in the spring or summer to scatter her ashes on a hill somewhere. I haven't decided where yet, but it'll be special to just us.

---
You can comment on this post in our forum.
WalkLakes recognises that hill walking, or walking in the mountains, is an activity with a danger of personal injury or death.
Participants in these activities should be aware of and accept these risks and be responsible for their own actions.