WalkLakes
We've Improved Our Walk Maps
We have just release a major upgrade to our WayMaps tiles and the supporting mapping application. To remind you the WayMaps tiles are used for:
the "road atlas" zoom levels on our GPS mapping application
all zoom levels in to the WalkLakes mapping app when you're not logged in
all our walk step maps for our walks at WalkLakes
You can find out more about how the WayMaps tiles first came into existence here in our blog.
Since then we have been looking to improve these tiles and Beth in particular has been spending a lot of time wrestling various data sources into submission and today we have put them online for everyone to see.
This release includes four really significant changes.
Outer Zoom Levels
We have stopped using the Ordnance Survey's OpenData tiles for the road atlas and country zoom levels, instead we're generating them ourselves.
Relief Shading
We have added relief shading to our mapping. So for example here's how step one of our Catbells walk looked before and how it looks now.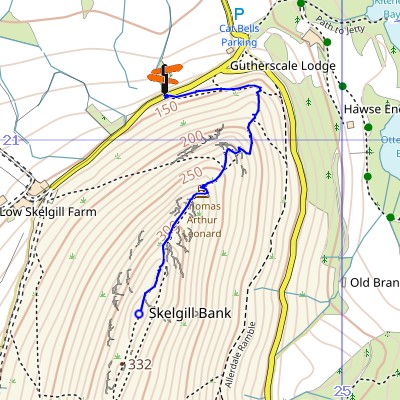 Note the shading on the east side of Catbells which makes the hill shape easier to understand for people who are less familiar with reading contours.
Ireland
We have added the whole of Ireland, both north and south, to the mapping. This includes:
contours, just like on the British mainland (these are generated from SRTM3 data from the Space Shuttle and can be a little "eccentric" compared to the Ordnance Survey contours we use on the mainland but they're still very usable).
height data, so right clicking gives you the height at that location and you can view profiles of tracks and routes, just like on the mainland.
Historically Ireland used the Irish grid reference system or EPSG:29902 which uses a similar scheme to OSGB but with a single letter for each 100km square rather than two however at the start of this millennium they started to move over to the Irish Transverse Mercator (ITM) or EPSG:2157 which uses yet another origin and purely numeric grid reference for display purposes. In the GPX mapping application you can choose how your your position is shown when in Ireland.
Ireland is still a little bare compared to the British mainland but we're already gathering new features for the next release including trig points, significant hill summits, and long distance paths.
Isle of Man
Although we had previously included the Isle of Map in our WayMaps tiles we didn't have height data. We do now so you also get contours, right clicking, and profiles when planning walks there too.

As WayMaps now offers you coverage which Bing doesn't our plan is to make WayMaps an optional layer in the GPX mapping application when you're logged in, so as well as being able to switch to aerial photography you will also be able to switch to WayMaps.
Anyway we hope you like our new tiles. Do let us know if you have any comments.
Any walks you have previously bought from us have been upgraded in your rucksack if you want to download or print them again.

---
You can comment on this post in our forum.
WalkLakes recognises that hill walking, or walking in the mountains, is an activity with a danger of personal injury or death.
Participants in these activities should be aware of and accept these risks and be responsible for their own actions.