WalkLakes
Using Tulips
We've had a couple of people recently ask us what the postcode is for the start of one of our walks and this got me thinking about tulips. Of course the reason people are asking is because they want to put the postcode into their satnav. Now normally this would be an entirely sensible thing to do because in an urban environment a postcode, which typically covers 25 houses in one street, would encompass a very pretty area and would certainly get you where you wanted to go. Sadly in rural areas this isn't always the case.
There's two related issues here: first the nearest postcode may be to a single building, typically a farm, and that might be some distance from the start point.
Second if the postcode covers more than one home then they will be a long way apart. I suppose the problem is that many of the car parks we use simply don't get post!
Now, if there's more than one of you in the car then this isn't really a great problem, one of you can navigate while the other drives. We've even added a "road atlas" scale map to page three of the Adobe/PDF versions of our walks so if you're relying on our maps rather than your own then you can still get to the start point.
If you're on your own however it gets trickier, especially on those narrow, twisty Lake District roads where you really don't want to be looking down at a map all the time.
And that's where tulips come in.
I was first introduced to the idea of tulips for navigation many years ago by a salesman I worked with who fancied himself as a rally driver (I'm not sure he ever was, but he did drive very fast, and very well, in an Audi Quattro Turbo if you're old enough to remember those). We were going to see a customer and he'd written himself instructions to get there using tulips.
Tulips were allegedly first devised as navigation technique in the 1950s on the Tulip Rally. Tulip, or ball and arrow instructions, are simple diagrams of the route junctions with the ball indicating where you come from and the arrow indicating where you are going to. Normally they are given in order.
Tulips may be orientated as on the map, or turned around so that the ball is always at the bottom, or most of the balls and arrows may be left off deliberately. Sometimes they may be squared up.
Here are a few variations on the same route described with tulips: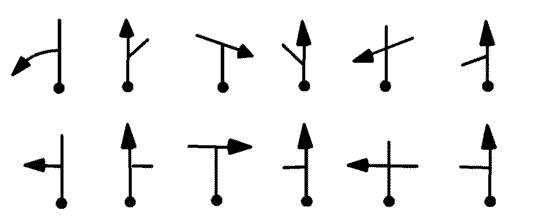 These are put together to form a Tulip Roadbook for the non-competive link sections and comments are often added next to them. So I starting using them myself and, like that saleman, I always orientated them so that the ball would be at the bottom (which means I could leave it off).
By way of illustration here's one on the right which I've just written from J40 of the M6 to the start of our walk Helvellyn round from Thirlmere.
You read it from top to bottom so it says:
take first exit at roundabout onto A66 signed to Keswick
second exit at the next round about still on A66 signed to Keswick
travel about 11.5 miles
take a shallow left turn onto B5322
at end of road turn left onto the A591 (I'll have to look back around my right shoulder)
look out for a pub on the left
travel about 0.6 mile
turn left into the car park
I'd stick this to the side of my dashboard with a bit of Blu-Rack® and away I'd go.
It's as simple as that. Like all the best techniques it's obviously a good way to do this once you've had it explained and you wonder why you weren't doing it already ... or perhaps you are, but you didn't know about the tulip name before?
Photo of tulip is by John O'Neill. Edited by Fir0002. Licensed under CC BY-SA 3.0 via Commons.

---
You can comment on this post in our forum.
WalkLakes recognises that hill walking, or walking in the mountains, is an activity with a danger of personal injury or death.
Participants in these activities should be aware of and accept these risks and be responsible for their own actions.