WalkLakes
Change to the Cumbria Way
A lot of people use our guide to the Cumbria Way when planning to walk this long distance path from Ulverston to Carlisle across the Lake District National Park and last week we got an email from Roger who'd walked it recently. He'd found our guide very helpful but wanted to report that the path had been diverted at Newbiggin about one mile north of Ulverston.
As the diversion appeared to have closed a public footpath we contacted Cumbria Country Council and they confirmed that the footpath had been permanently diverted and the diversion was confirmed on 27th February. You can find the Public Path Diversion and Definitive Map and Statement Modification Order here (Adobe PDF, 2.2MB).
Essentially they have closed the footpath at Windy Ash near Newbiggin where it passed in between and very close to some houses and replaced it with a new path across fields a little to the west.
The Order included this map which details both the old (black line) and new (dashed line) routes.
So we have updated OpenStreetMap with the new path and then updated our WayMaps map tiles to match so you can now see the new route in our GPS mapping app. No doubt Ordnance Survey will follow suit at some point.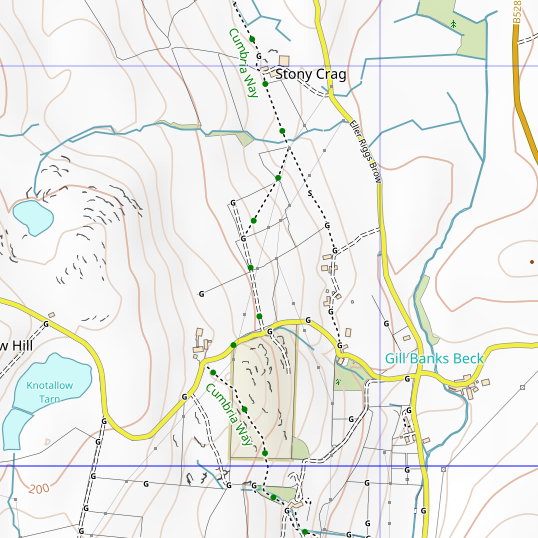 We have also updated step 3 of our walk Cumbria Way - Ulverston to Coniston to describe the new route and we will be emailing everyone who has purchased this walk in the last year to let them know of the change as people often buy these walk descriptions well in advance of walking the Cumbria Way.

---
You can comment on this post in our forum.
WalkLakes recognises that hill walking, or walking in the mountains, is an activity with a danger of personal injury or death.
Participants in these activities should be aware of and accept these risks and be responsible for their own actions.