This is a short, uncomplicated, walk to the two Wainwright fells of Knott Rigg and Ard Crags, and includes the 'free' Birkett of Ill Crag which is situated between them. Starting from the top of the Newlands Pass, after only a short but steep climb you gain excellent views of the surrounding fells and of Moss Force - a great cascade of water draining Buttermere Moss. The ridge top path undulates and meanders, some of it is on grass, and some later, higher on the ridge is through heather. It is always clear and easily followed. On the return of this linear walk a path skirting to the left of Knott Rigg may be taken to avoid a little repeat climbing.
There is an informal parking area at the top of the pass, Newlands Hause.
The work we do on this web site, both researching and writing up walks, takes a lot of our time but doesn't make us a great deal of money. The main way we fund this work is by selling our walks as PDFs for printing. Please use the "Buy walk in Adobe/PDF format to print or for your phone or tablet" link on the walk page to do that.
If you have already purchased the walk then you if you are logged in you can find it in your rucksack (link top right on any page) in a format suitable for printing.
Thank you for your support
Paul and Beth
This walk takes you to the top of the following hills: Knott Rigg, Ill Crag (Newlands), and Ard Crags; and includes 2 Wainwrights, 3 Birketts, 2 Dodds, 2 Deweys, and 1 HuMP.
If you need accommodation we have details of 12 properties offering rooms near the start of this walk. Here are some examples:

£379-1625 per week
5.7km (3.5 miles) away, sleeps 2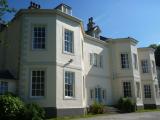 £19.00-22.00 per bed
7.9km (4.9 miles) away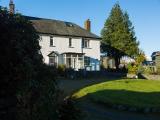 £505-2555 per week
6.0km (3.7 miles) away, sleeps 6
Maps:

Start:

NY192176 (get directions via Google Maps)

Near to:

Tags:

Distance:

5.6km (3.5 miles)

Ascent:

368m
1 hrs 44 mins

View in 3-D:
Terrain:

Bog Factor:

Tech Diff:

2 - basic map reading
Rough grass and stone paths throughout.

Dog issues:

Little water on the ridge. A fenced off bog hole between Ill Crag and Ard Crags - marked only with a spot height of 546m on the OS 25K map, is unsuitable as a water source.


Purchases:
Walk height profile



note that gradients are usually grossly exaggerated

Route Description
---
1
From the parking area walk against the flow of tourists wandering along to Moss Force, and instead locate the rather short signpost on the opposite corner of the hause. A path passes beside the signpost and climbs the steep grassy bank to the ridge of Knott Rigg and Ard Crags.
An occasional respite and rocky step gives an excuse to look back down to the hause, and to Moss Force - possibly the best view of the waterfall. Behind the force is High Snockrigg which is the step on the western flank of Robinson.
Eventually the gradient eases, and Knott Rigg comes into view on the north-west corner of a mossy plateau. Bear left to the small summit cairn of Knott Rigg.
---
2
From the summit of Knott Rigg, bear slightly right to remain on the ridge path. To carry on ahead would invite a comedic but painful tumble down to Sail Beck far below you. Across Sail Beck is the hanging valley of Addacomb Hole

carving a huge scoop out of Wandope and is backed by Scar Crag.
Continue over the little bump of Ill Crag marked by a spot height of 546m on OS 25K maps, and down to the col. Climb again, now through heather, to the little pile of stones at the summit of Ard Crags. From here the striking view is of Causey Pike.
---
3
Return back along the ridge. Approaching Knott Rigg a path bears left across the mossy plateau to bypass the summit knoll before joining up again along the ridge. Drop steeply down to the Hause.
---
A walk by
Elizabeth Oldham
Inevitably things change on the ground so if you think this walk needs updating please
let us know
If you like this walk then why not try one of our other nearby walks:
Unless otherwise stated the text in this walk is the copyright of Hug Solutions Ltd trading as The Hug and the photographs are the copyright of Elizabeth Oldham. Hill data is derived from Database of British and Irish hills which is licensed under a Creative Commons Attribution 3.0 Unported License. Maps contains Ordnance Survey data © Crown copyright and database right 2011 and paths © OpenStreetMap Contributors,CC-BY-SA, 2011