Slight Side sits as the last battlement on the Scafell massif's southern ridge. A typical boulder strewn summit area is topped by a small collection of stones on the highest outcrop. To the north the ridge continues to Scafell, and then across Mickledore to Scafell Pike. South the ridge falls quickly to boggy moorlands before tumbling into Eskdale.
To climb to Slight Side with anything else invites a long and tiring journey. However, the route starting from near Wha House in Eskdale is surprisingly simple, has mostly gentle gradients, and delivers an excellent walk well above the expectations of a linear walk. The sting in the tail is that the final climb to Slight Side's summit is steep and the last bit is quite a clamber over boulders. Dubbed by Wainwright as The Terrace Route, the views down to Brotherikeld and across to Hard Knott persuade you to just sit on a rock and take in the surroundings a while. A fine day helps with this of course!
Opposite Wha House Farm is a small gravel car park with room for perhaps half-a-dozen well parked cars.
The work we do on this web site, both researching and writing up walks, takes a lot of our time but doesn't make us a great deal of money. The main way we fund this work is by selling our walks as PDFs for printing. Please use the "Buy walk in Adobe/PDF format to print or for your phone or tablet" link on the walk page to do that.
If you have already purchased the walk then you if you are logged in you can find it in your rucksack (link top right on any page) in a format suitable for printing.
Thank you for your support
Paul and Beth
This walk takes you to the top of the following hills: Slight Side; and includes 1 Wainwright and 1 Birkett.
If you need accommodation we have details of 10 properties offering rooms near the start of this walk. Here are some examples:


£589-2596 per week
5.6km (3.5 miles) away, sleeps 4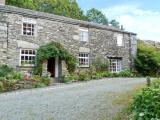 £398-2693 per week
6.7km (4.2 miles) away, sleeps 7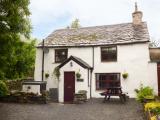 £337-1847 per week
5.6km (3.5 miles) away, sleeps 4
Maps:

Start:

NY199009

Near to:

Tags:

Distance:

9.9km (6.2 miles)

Ascent:

673m
3 hrs 6 mins

View in 3-D:
Terrain:

Bog Factor:

Tech Diff:

4 - pathless/high plateau/minor scrambling
Faint and at times narrow mountain paths. Mostly easy slopes, until the final ramp which is partly loose scree then a clamber to the summit cairn perched on an outcrop of very large boulders.

Dog issues:

You may encounter cattle.
Includes stiles or other dog obstacles.
We found cows beside Cowcove Beck, although judging by the wide spread of pats they are free to roam all over the fell. Just the one step stile right at the beginning.


Purchases:
Walk height profile



note that gradients are usually grossly exaggerated

Route Description
---
1
Just inside the parking area, opposite the entrance, cross the fence by way of the step stile onto the fellside. Bear right, at first the path is vague and indistinct but materialises in a few metres climbing steadily amongst the summer bracken.
Go through the gate in the wall which can be seen once over the brow, and through a couple more gates in close succession. Now well established the path follows alongside a wall to the right for around 300m (330 yards) before climbing a little way above, never to really resume its close proximity.
Keep gradually swinging left to head northwards. More pleasant meandering amongst the crags and hollows on the Terrace Route brings you out to some significant light grey rocks with what looks like a rough beck crossing, and Cat Crag ahead.
Mark it well in your memory as this is a confusing junction. A path drops increasingly steeply alongside Catcove Beck and Scale Gill to Brotherilkeld from here which on the return journey is the more obvious.
---
2
Do not actually cross Catcove Beck yet, keep left on the path with Cat Crag to the right. In another 300m (330 yards) cross the now vague and boggy lands around Catcove Beck.
Here you can branch left, although there is little sign of a path yet, and upwards around a knott to pick up a higher path - you may want to do this if you have a dog and cows are in Cow Cove ahead.
Otherwise bear around to the right, above the boggy ground of Cow Cove.
Slight Side is the grey lump towering ahead which has been in view a while. Scafell is beyond.
Follow the path traversing the damp and sometimes marshy fellside to a large rock

then strike left and climb more steeply to a small cairn on the edge of Quagrigg Moss.
---
3
At the small cairn bear right on the path along the edge of Quagrigg Moss and keep right. Whilst still on grass the path steepens further with occasional cairns confirming the route ahead.
Above the plateau of Quagrigg Moss join a short section of loose scree path. Keep ahead at the top of the scree, and then at a small saddle marked with a cairn, swing left.
A path winds round the back of the first lump to an easy clamber over the rocks to the very small collection of stones sitting on the second outcrop of large boulders which marks the summit of Slight Side.
---
4
Returning to start point is largely retracing your steps. To avoid the wet traverse path above Cow Cove you can continue ahead along the edge of Quaggrigg Moss on a narrow but good path. Keep left at any junctions. Rejoining the outward path there is a short section around a knott where the path is all but non-existent, but with the outward path visible just below you it is easy to drop down through a little bracken. Bear right when joining of course.
At the end of Cow Cove where Catcove Beck is close to the path alongside the large light grey stones, make sure you turn right across the rough stony ground to regain the Terrace Route.
From then on it's largely continuing ahead with only the view to distract you.
---
A walk by
Elizabeth Oldham
Inevitably things change on the ground so if you think this walk needs updating please
let us know
If you like this walk then why not try one of our other nearby walks:
Unless otherwise stated the text in this walk is the copyright of Hug Solutions Ltd trading as The Hug and the photographs are the copyright of Elizabeth Oldham. Hill data is derived from Database of British and Irish hills which is licensed under a Creative Commons Attribution 3.0 Unported License. Maps contains Ordnance Survey data © Crown copyright and database right 2011 and paths © OpenStreetMap Contributors,CC-BY-SA, 2011