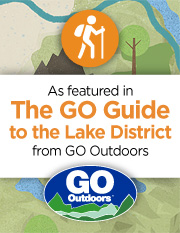 Standing over the small village of Braithwaite near to Keswick, Grisedale Pike has a distinctive profile. Its north east ridge climbs from the village in three steps. Initially a grass path climbs steeply through bracken and shrubs to gain the ridge at Kinn, above Heavy Sides plantation. Along to Sleet How it is wide, grassy with increasing amounts of heather. Then climbing the last steep section the ridge narrows appreciably to become a rough clamber up loose stones and rocky steps. Whilst the ascent is not difficult it is perhaps best reserved for a day of good conditions: climbing that last bit wouldn't be much fun if it was wet and besides you would miss out on the stunning views.
Reaching the summit of Grisedale Pike the views really open out to the Western Fells, with the onward journey over the subsidiary top to Hopegill Head clearly laid out. It is also a grand viewpoint for the Skiddaw fells to the north, and east to the Dodds and Clough Head.
Returning via Coledale there is the opportunity to wander around the remains of Force Crag Mine before using its access road as an easy way back to the car park or Braithwaite village. Force Crag Mine is a now a Scheduled Monument and Site of Special Scientific Interest. At various times galena (lead), sphalerite (zinc), and baryte (barium) were mined from deep within the fellside below Grisedale Pike and Force Crag. Baryte was particularly saught after during the Second World War as it was used in the manufacture of explosives. Later it became useful as part of the "mud" lubricant for drill tips on oil rigs. Other uses include medical imaging. Closing in 1990 after a roof collapse, the last mineral mine in the Lake District, it is now owned by the National Trust. The Trust opens the mine buildings a few times a year for guided tours.
The walk starts from a small and very convenient parking area near the bottom of the Whinlatter Pass opposite Hope Memorial Park. This is not signposted as a car park although there is a "car park 1/2mile" just beside the entrance. Parking is also available in Braithwaite village, where at weekends the village school allows parking otherwise it is just on-street.
The work we do on this web site, both researching and writing up walks, takes a lot of our time but doesn't make us a great deal of money. The main way we fund this work is by selling our walks as PDFs for printing. Please use the "Buy walk in Adobe/PDF format to print or for your phone or tablet" link on the walk page to do that.
If you have already purchased the walk then you if you are logged in you can find it in your rucksack (link top right on any page) in a format suitable for printing.
Thank you for your support
Paul and Beth
This walk takes you to the top of the following hills: Sand Hill, Kinn, Hopegill Head, Hobcarton Crag, and Grisedale Pike; and includes 2 Wainwrights, 5 Birketts, 4 Nuttalls, 3 Hewitts, 1 Marilyn, and 1 HuMP.

Route Description
---
---
---
---
---
---
---
If you like this walk then why not try one of our other nearby walks:
| Name | Rating | Starts |
| --- | --- | --- |
| Force Crag Mine | | 10m (11 yards) away |
| The Coledale Horseshoe | | 248m (273 yards) away |
| A Shorter Coledale Round | | 456m (502 yards) away |
| To Force Crag Mine - a Coledale Low Round | | 456m (502 yards) away |
| Words In The Woods | | 0.8km (0.5 miles) away |
| Whinlatter Forest - Heavy Sides Walk | | 0.8km (0.5 miles) away |
| Causey Pike and Scar Crag | | 2.1km (1.3 miles) away |
| Whinlatter | | 2.4km (1.5 miles) away |
| Barf, Lord's Seat, Ullister Hill and Seat How | | 2.8km (1.7 miles) away |
| Catbells and the Newlands valley | | 3.2km (2.0 miles) away |
| Catbells | | 3.3km (2.0 miles) away |
| Catbells, Maiden Moor, High Spy - A Half Newlands | | 3.3km (2.0 miles) away |
| Cumbria Way - Keswick to Caldbeck | | 3.9km (2.4 miles) away |
| The National Trust Centenary Stone from Keswick | | 3.9km (2.4 miles) away |
| A short walk to Friar's Crag from the Moot Hall, Keswick | | 3.9km (2.4 miles) away |
| Castlehead Viewpoint from the Moot Hall, Keswick | | 3.9km (2.4 miles) away |
| Around Derwent Water | | 3.9km (2.4 miles) away |
| The Old Keswick Railway Line and Latrigg | | 4.3km (2.7 miles) away |
| Robinson, Hindscarth and Dale Head - A Half Newlands | | 4.4km (2.7 miles) away |
| Robinson and Hindscarth from Little Town | | 4.4km (2.7 miles) away |
| Skiddaw - Dodd | | 4.5km (2.8 miles) away |
| Ullock Pike, Longside Edge, Carl Side | | 4.5km (2.8 miles) away |
| Graystones, Broom Fell, and Lord's Seat | | 4.9km (3.1 miles) away |