The ascent from the old quarry parking area near Stone End farm is, as Wainwright describes "straightforward", but easy it isn't. Once above Rake Trod the thought of descending that way is simply not appealing. Looking back the route is steep, and uninvitingly loose. Fine when climbing, requiring only a little careful footwork. Having committed to the round there is a reasonable escape route on the far side of Miton Hill, down the deep groove of Red Gate. Otherwise head straight down the flank towards Carrock Beck.
The summit area of Carrock Fell was once home to an Iron Age fort, the only visible remains are sections of vague wall foundations.
The Fell is also of great interest to geologists. Part of our route touches Further Gill Sike (or sometimes Syke) which has different types of rock on either side: rough blocks of gabbro much liked by climbers for it's grippy surface on one, the other is made up of forms of granite. The whole area is complex and many useful ores can be found including an oxide of titanium, and magnetic iron ore which can swing a compass off north!
(Slightly annoyed that I missed the summit of Round Knott between Carrock and Miton Hill. I've placed route waypoints at Carrock and Miton so you can decide to either follow my track or tick it off as it is a Birkett - Beth)
The work we do on this web site, both researching and writing up walks, takes a lot of our time but doesn't make us a great deal of money. The main way we fund this work is by selling our walks as PDFs for printing. Please use the "Buy walk in Adobe/PDF format to print or for your phone or tablet" link on the walk page to do that.
If you have already purchased the walk then you if you are logged in you can find it in your rucksack (link top right on any page) in a format suitable for printing.
Thank you for your support
Paul and Beth
This walk takes you to the top of the following hills: Round Knott, Miton Hill, High Pike (Caldbeck), and Carrock Fell; and includes 2 Wainwrights, 4 Birketts, 2 Hewitts, and 2 Nuttalls.
If you need accommodation we have details of 23 properties offering rooms near the start of this walk. Here are some examples:

£422-1902 per week
6.5km (4.0 miles) away, sleeps 6

£497-2374 per week
7.2km (4.5 miles) away, sleeps 6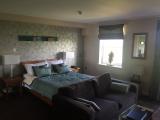 £560-910 per week
7.7km (4.8 miles) away, sleeps 2
Maps:

50K: 90 25K: OL5

Start:

NY354338

Near to:

Tags:

Distance:

10.0km (6.2 miles)

Ascent:

525m
2 hrs 52 mins

View in 3-D:
Terrain:

Bog Factor:

Tech Diff:

2 - basic map reading
Rough, steep and loose climb at the start.

Dog issues:

Sheep, but otherwise 'four paw drive' will not have problems. Small puddles in the boggy bits may still have water during summer.


Purchases:
Walk height profile



note that gradients are usually grossly exaggerated

Route Description
---
1
From the small parking area just above Stone End Farm, locate the bottom of Rake Trod the other side of the quarry - it climbs right to left, heading across a small scree chute and then bearing right into Further Gill Sike.
Climb the Rake taking care on the loose surface. Steep steps zigzag up along the stream to your left. The path then enters a deep gully through heather which is at times handy for hauling yourself up by.
---
2
Passing the sheepfold, the path bears right slightly, heading for the East Peak. Continue over this top to the bouldery summit of Carrock Fell. There is a windshelter here.
---
3
Continue over the summit onto the wide boggy path to Miton Hill. Once past Miton Hill the path improves and is less wet.
Continue on the path past the head of Red Gate, to an area of dry gills, or deep fissures which hint at past water flows.
After climbing a little the path bear right towards High Pike.
Cross the gravel track and continue to the summit. As well as the trig point there is, remarkably, a stone bench here! On a good day sit a while and take in the views.
---
4
From the summit, turn right onto a reasonably clear grass path heading in the general direction of the mine workings. Reaching the track, the same one you came across earlier but a little further down, bear left continuing past the workings and immediately turn right. Take the path initially heading on to West Fell, then locating the top of the mine track, turn right onto it and descend. This track follows above Carrock Beck.
At the fork bear right. Before rejoining the public road at the end of this track you can, if you haven't had enough of wet soft ground, cut the corner off by bearing right on an obvious path, cross the stream, and continue down to the road.
At the road, turn right to head back to the starting point.
---
A walk by
Elizabeth Oldham
Inevitably things change on the ground so if you think this walk needs updating please
let us know
If you like this walk then why not try one of our other nearby walks:
Unless otherwise stated the text in this walk is the copyright of Hug Solutions Ltd trading as The Hug and the photographs are the copyright of Elizabeth Oldham. Hill data is derived from Database of British and Irish hills which is licensed under a Creative Commons Attribution 3.0 Unported License. Maps contains Ordnance Survey data © Crown copyright and database right 2011 and paths © OpenStreetMap Contributors,CC-BY-SA, 2011